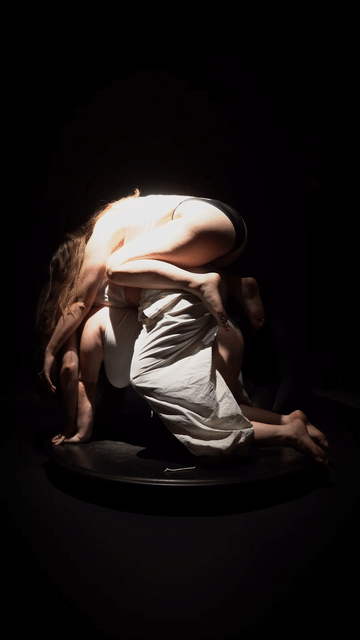 Blue McCall +
Jamondria Harris +
Ashley Ona Bott
+ ensemble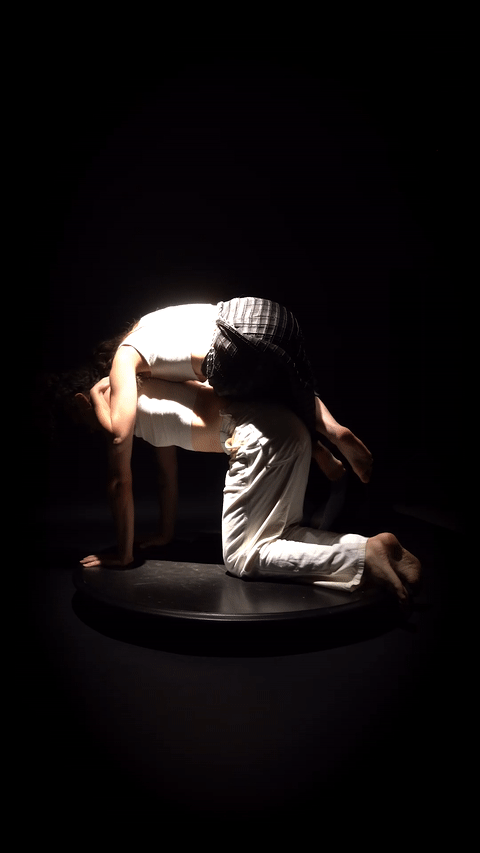 November 4–6, 2022
At Performance Works NW
Portland, OR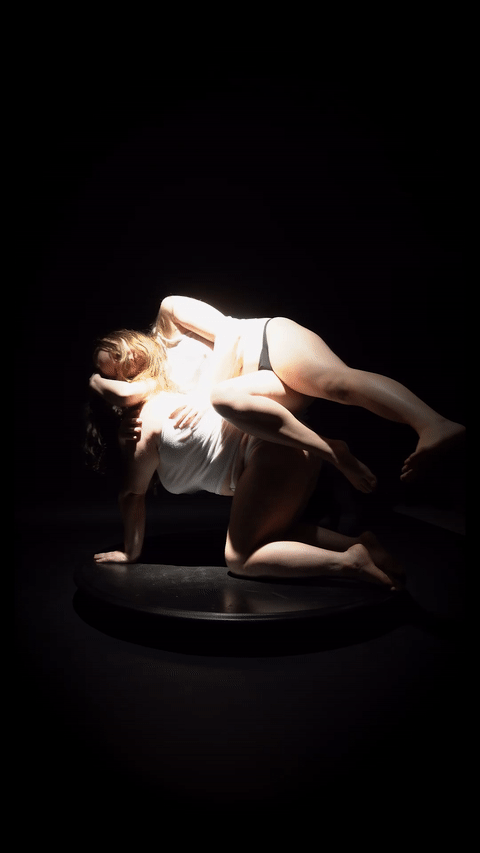 What is live performance in an age of
hypermediation?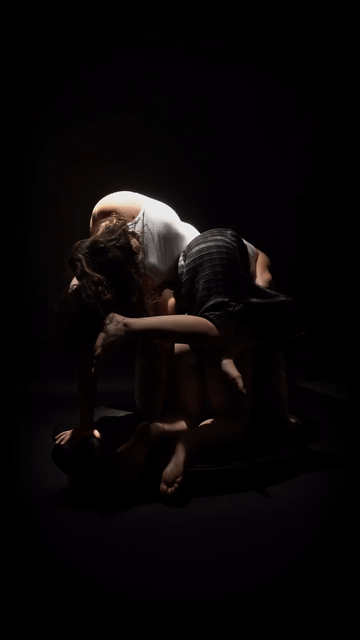 This is not a doomscroll...
SCORES
✿✿✿

is a polyphonic, multidisciplinary evening of dance+ emerging from Portland's subcultural underground. In seeking saturation of experience – of feeling – of sensation,
Blue McCall
enmeshes a group of dancers within a living sound installation by
Jamondria Harris
(
meroitic
) and procedurally generated video projcetion by creative coder
Ashely Ona Bott
.
Data Mosh:
Encryption Against Hyper-Visibility

Not an Image ur a Feeling

Pendulum:
Boys be Bad Behavin

Duet with Rod and Cable-Wrangler:
I Endure/Adore You:

CHOREOGRAPHY
✿✿✿

Blue McCall is a mulitdisciplinary artist from Southern Appalachia. They are interested in antenarrative, touch, subcultures, social dance, and cycles of dissent-revolt-rest. They create immersive environments, direct performance and sometimes paint or write. Blue is the author of Slip Wip, a multimedia fantasy novella that follows a genderfucked worker named Ambidextrous LoverLiar through exploits in the *Ick Factory. The novella is released serially on No Bounds Radio (Manchester/London). Their painting practice has been supported by RACC, Conduit at Utopian Visions Art Fair, Portland Textile Month, and the Cooley Gallery. Blue works across disciplines and scenes in an effort to decentralize the hierarchical workings of art worlds.

✿✿✿
NOISE
✿✿✿
Jamondria Harris, meroitic is a living black/indigenous/queer interdisciplinary artist, poet and composer. Their work uses words, sounds, wires, instruments, textiles & what falls into their hands to engage with blackness, desire, spirit/source, decolonization, fairy tales, & embodiment. Their sound art emerges from deep-listening fluidity between rhythm & source, engendering sonic cartographies woven from samples, feedback, the electromagnetic field of bodies & rooms and both digital and analog synthesizer soundscapes.
✿✿✿
ENSEMBLE
✿✿✿
Sophie Andrus
Ysabella Bonnieux Richard
Wolfgang Black
Sam Cimino
Nikki Cormaci
Heidi Kleder
Hannah Krafcik
Emma Lutz-Higgins

The ensemble is joined by creative coder Ashely Ona Bott. She created three non-human machines:
"Data Mosh"
"Perlin Noise Cloud Sim"
"POV Hacked Webcam,"
whose projections are choreographed alongside the ensemble using motion vector capture and live hacking techniques.

✿✿✿

Sophie Andrus has been dancing & creating dance in Portland since 2016. She enjoys working within improvisational scores as well as structured choreography and is always on the lookout for new projects.

Wolfgang Black is a non-binary performer, musician and filmmaker. Since 2017, they have been creating queer experimental pop music under the name Jan Julius, earning recognition from publications like Pitchformk and Tiny Mix Tapes. Their debut alubm, Meat Shot Idyllic, resists categories of gender and genre, reveling in unstable queer utopias born of our dystopian present.

Ysabella Bonnieux Richard feels most at home when they are dancing and exploring sound & music through movement. Growing up in a multigenerational Borinqueño household, Ysabella experiences dance as a form of cultural celebration and resiliency.

Sam Cimino is an intuitive artist working with visual art, music, and movement. Her work explores mysticism, the feminine, a return to earth based practices, and playful expression. She is also a practicing herbalist.

Nikki Cormaci works as a hotel maid. Her performance work recently was archived by the Center for Art and Environment at the Nevada Museum of Art. Their essay on viscerality and the sea is forthcoming in Presence magazine.

Heidi Kleder is a human condition experiencer/perceiver. She is drawn instinctually toward movement and form-making, and away from rigidity.

Hannah Krafcik is an interdisciplinary neuroqueer artist and writer whose work emerges from ongoing reflections on social patterning and censorship, (over)stimulation, preservation, and intuition. Their practices span dance, new media, and sound design.

Emma Lutz-Higgins is a dancer and dance maker recently relocated from Brooklyn, New York. She's now a resident of Flock Dance where she's making a new piece "You Make Me Sick"

Ashley Ona Bott is a wild-at-heart noise girl, armchair gender theorist and creative coder. She toured as a DIY musician for over ten years before landing in the Pacific Northwest. Now, Ashley applied her DIY ethic to building a slice of the anarcho-internet, where everyone hosts their own services and computing power is shared. She dreams of open networks free from techno-billionaire influence. She is currently developing her second album, aob02, and is starting a tape label– monomicro.

✿✿✿

PHOTOS
✿✿✿
Photos, gifs, and styling by
Proof of Body
, a creative studio and love project by
Gabriel Noller
and
Madison Hames
.
To get in touch, email
proofofbody@gmail.com
or follow them on Instagram at
@proof.of.body
.
WRITING
✿✿✿
What is live performance in an age of hyper-mediation? ✿ How do artists and image makers create during a moment of total image saturation? ✿ What is visual culture now that visuality exists machine-to-machine? ✿ How are embodied artists evading censorship by Automatic Image Flagging on social media ? ✿ How do we live when excluded from authorship? ✿ How do those of us in queer, trans, and racialized bodies survive visibility in Amerikkka's present-day technofash surveillance state? ✿ Can we do more than just survive, together? ✿
Thougts–theories–feelings will be published as a performance document by
OtherForms
in the upcoming journal :
Counter-Signals 5:
Systems and their Discontents
edited by Alan Smart and Jack Henrie Fisher
2023
✿✿✿