2023
"What if the truth is in its material configuration? What if the medium is really a message?"

– Hito Steyerl
Alchemical Transformations
is a group exhibition of material and post-digital sculpture from Bay Area artists Brian Bartz and Kelley O'Leary alongside Chicago-based artist Blue McCall in collaboration with local darlings Proof of Body. The exhibition pushes back against the rigid and structured hegemony of time and space on post-internet Earth. The network, to which we are all beholden, imposes on human life a compulsory duty to quantify our identities and structure our time into small packets of linear information with which we can be repackaged as commodities. Works in this show include bizarre machines that turn digital devices inside out, crystallized e-waste rocks, clay body sculptures made from earth samples collected from data storage centers, photographic stills that insist on movement, and dance film captured by hacked-webcam-ballgags worn in the mouths of dancers. As a group, the exhibition offers multiple proposals – for a messy, entangled digital ecosystem located in a flawed technological present, where time unfolds queerly in ways that do not always make sense, in analog space that somehow maintains an ethereal quality.
See the full exhibition description at wellwellprojects.com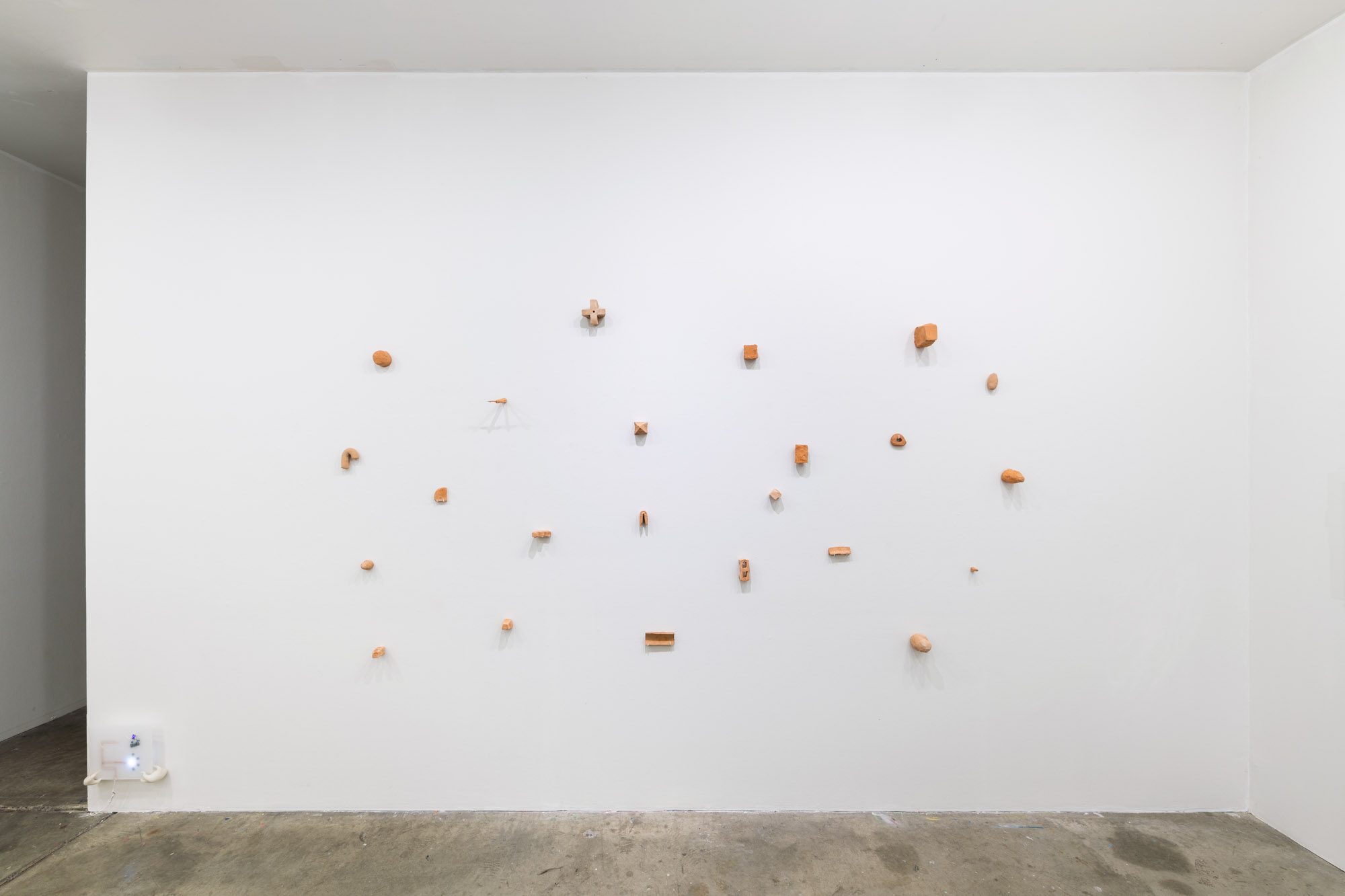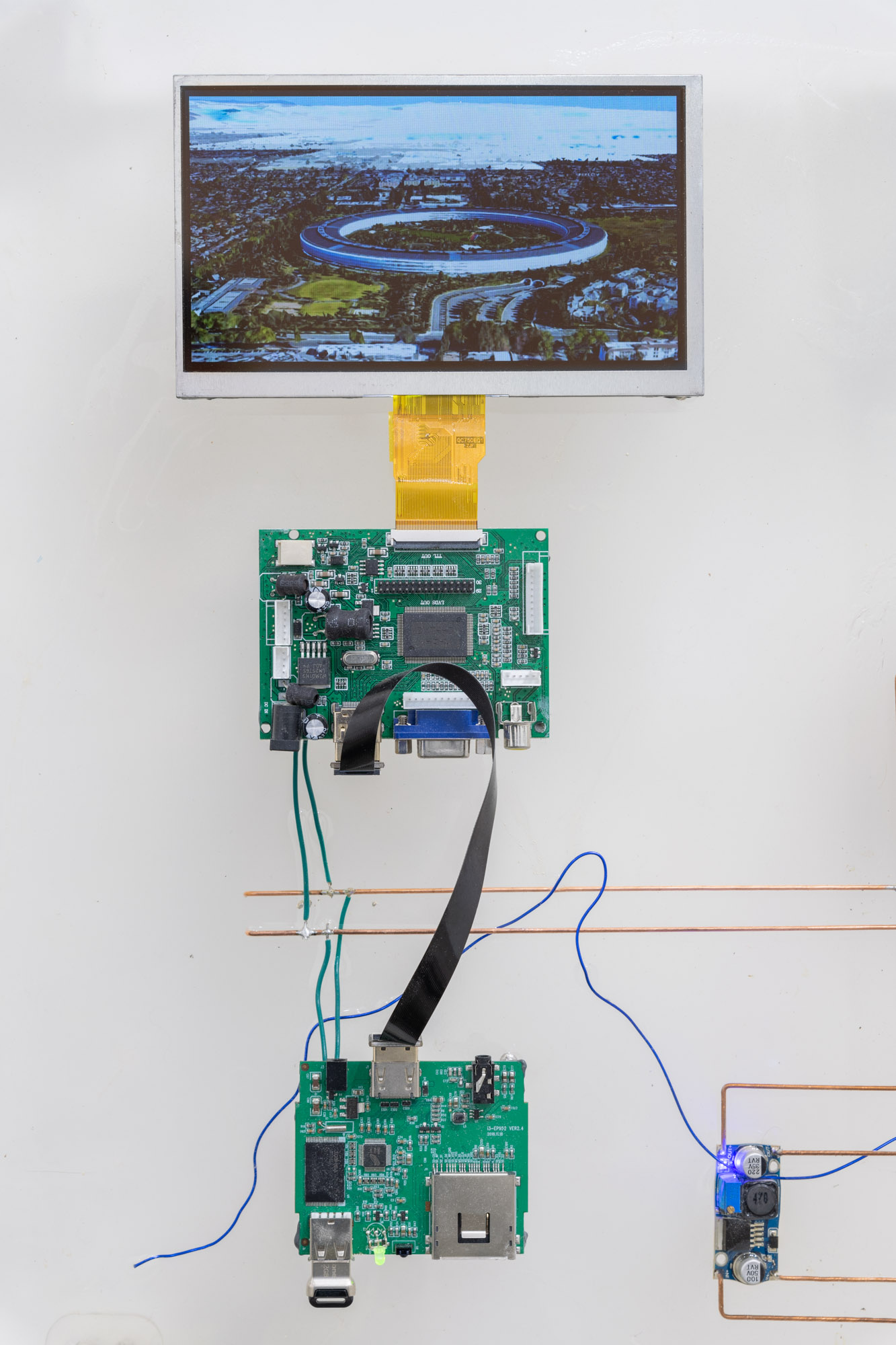 2019 - present
Contact Doorstops


Basswood
3.25 x 3 x 2.5 in.

Typeset in Vendetta
Edition of 9. 6/9 avail.

A series of six doorstops made from soft basswood. The wedges each bear a sad little poem about love or touch or wear, burned into thier surfaces with a laser cutter. They could be read from the perspective of a person to a lover, or from the doorstop to the doorway. The text will be eventually beaten out by the weight of the door.

Photos by Jordan Dewaller.
2021
Bioplastic, beeswax, cake, drapery chord, linen, marble, natural dye, silk, and sod.
Stills from video documentation by David Madsen.
2018
W.I.C.


Cast-porcelain nipples, mason stains, eggshells
12' x 12' installation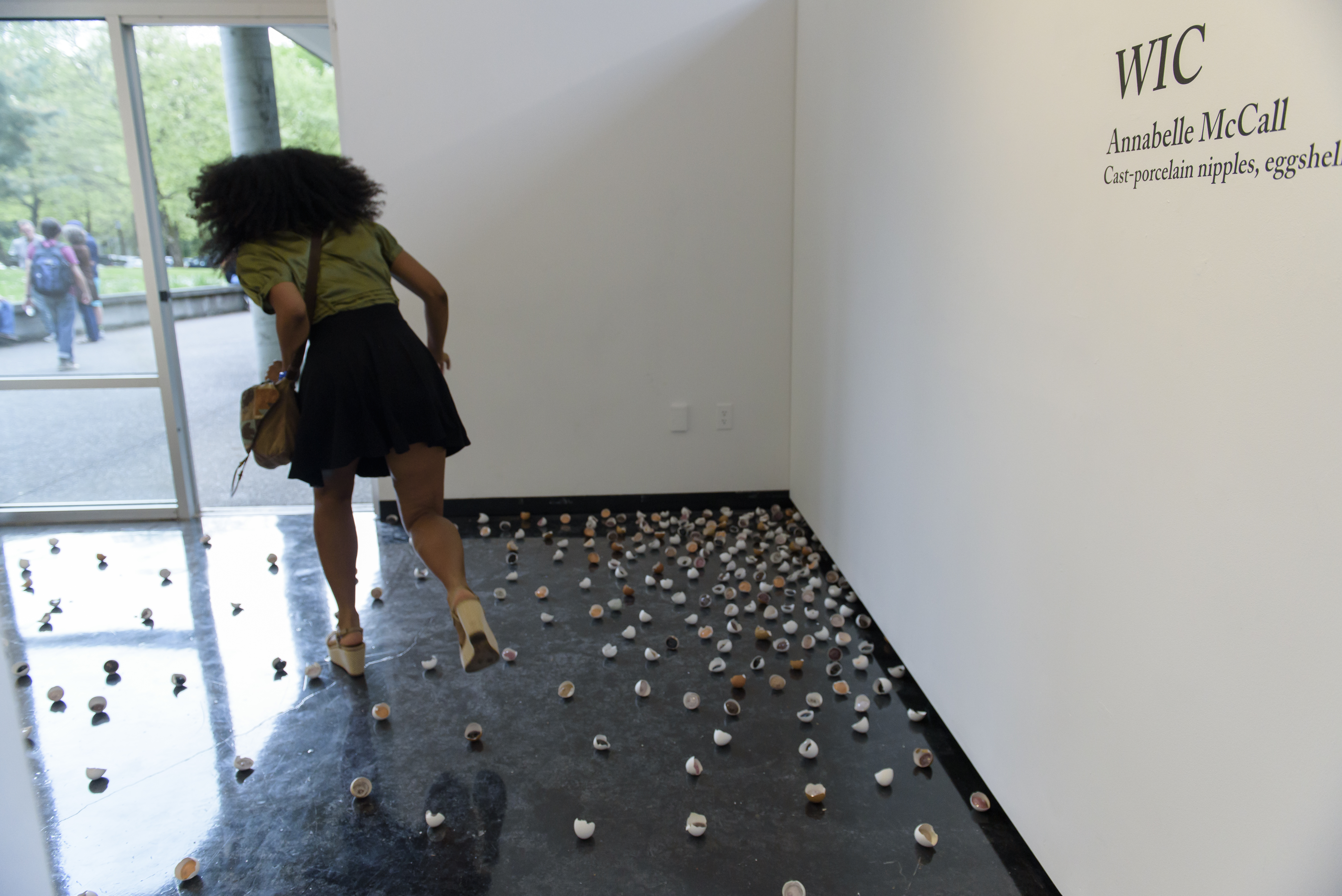 2016
Curl Up

Laser-engraved Reves BFK, plexi, linen thread
8 x 6 x 1 in.
Reed College Press x Reed Physics Fab Lab
Edition of 40,
To be fabricated by machine & hand upon request
A copy can be viewed in the Reed College Speical Collections Libary.
Curl Up maps the places where my skin touches skin when I curl up in the fetal position. This was the beginning of my experiments using burning as a form of inkless printing.

I inked my body, sandwiched paper between its folds in the chosen gesture, then scanned the images to be digitally manipulated. I made my 1:1 body data legible to a rayjet laser cutting machine, then treated the laser cutter as a printmaker's press bed. The burn is a grayscale image, with pores and wrinkles burned straight through the page.

The collection of inkless prints is coptic bound in a plexiglass cover. This artist book lives in an edition of 40, to be fabricated by machine and hand upon request. It can also be freely disseminated as a set of .ai files and open source machine calibration instructions.